Community Energy. It's time.
Community energy projects are financed and owned by the community, who control, manage and operate the project. The community also share in the profits it generates.
CE4G has been set up to spearhead local community renewable energy projects in the Goulburn region of NSW, starting with a 1.2 MWp solar farm in Goulburn.
DA Finally approved!
At long last Council has finally approved the DA for the Bridge St site and the few conditions that originally were imposed have now been ironed out. Hooray! But overall, we have jumped a significant hurdle to allow us to move to the next stage - finalising the legal and financial modelling and drawing up an Offer Information Statement that will be issued to anyone interested in investing in this terrific community project.
Read more about our progress here.
Five hundred at congress!
Community energy congress in Melbourne attracts big crowd.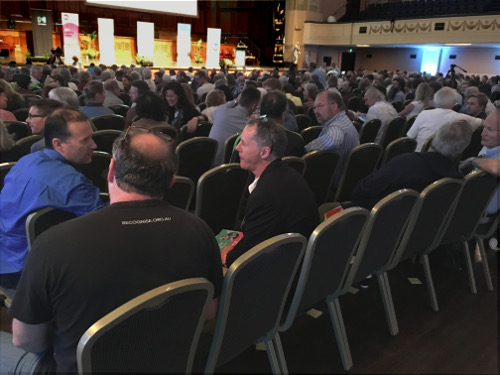 Over 500 people from all over Australia attended the second Community Energy Congress in Melbourne on Feb 27-28. Two delegates from CE4G were there to attend the numerous seminars and meet other like minded community groups all interestetd in community energy.
Held in Melbourne Town Hall, this was the second national Community Energy Congress, the first held in Canberra in 2014. The mood was upbeat and positive about the future of community energy in Australia. And it gave CE4G the opportunity to meet others who are setting up a whole variety of projects that will provide alternative energy sources and channels to the large coprporates currently dominating the energy market in Australia.
Many of the seminars were packed out with standing room only for some delegates.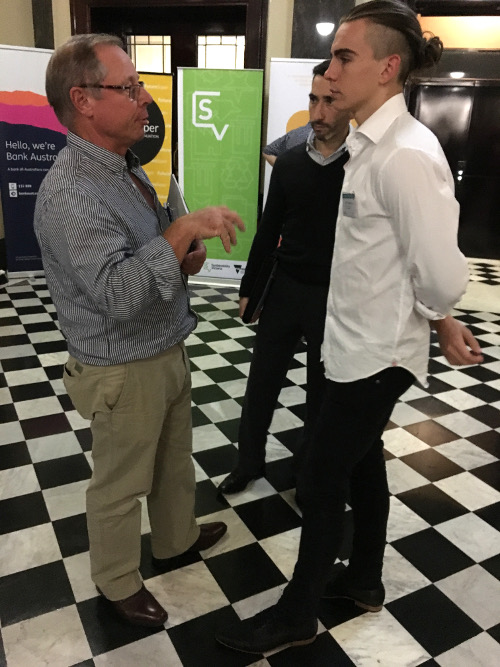 Ed Suttle, from CE4G, networking with other delegates at the conference.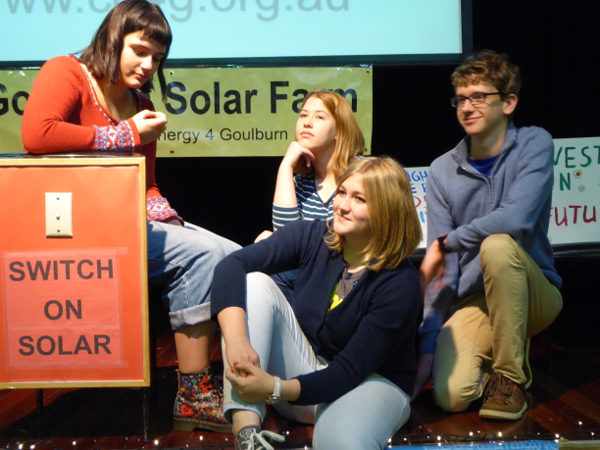 "Remember us - we'll still be around in 2050" say some young people from Goulburn.
And this is what they are doing in the UK: Watch the video
Why Community Energy?
"Too often, policymakers and industry representatives assume that financial stakes are enough reward for the public. .... [but] people come together ... to do the right thing, get to know each other, and create a sense of community." Read more, and watch the inspiring video.
What's going on, Australia?
In the lead-up to the 2015 general election in the United Kingdom, the leaders of the three major parties sat down together and signed a statement on climate change policy that would seem unimaginable to Australians. They agreed that "climate change is one of the most serious threats facing the world today" and undertook to "to work together across party lines to agree carbon budgets in accordance with the Climate Change Act". Read more
Interested in helping out, or becoming a member? Join now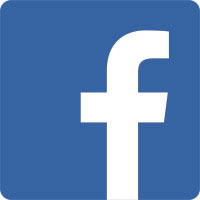 Follow us on Facebook