Project #1
Goulburn Community Solar Farm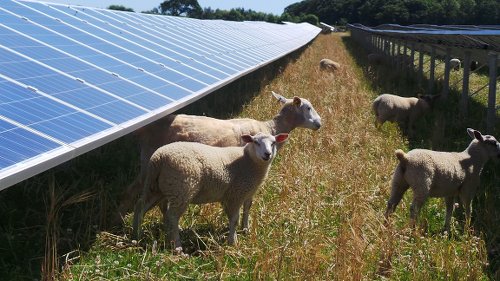 CE4G's first project was to conduct a feasibility study into a 1 MW Community Solar Farm in Goulburn. The feasibility study is being undertaken in collaboration with local business Divall's Haulage, Infigen Energy Pty Ltd, the Australian Solar Council, and the Goulburn Mulwaree Council. Completed in April 2016, the study was funded by a community energy grant from the NSW Office of Environment and Heritage. Between the time the project commenced and the final report, CE4G decided that, owing to improvements in technology over that 12 month period, a 1.2 MWp plant was feasible.
You can dowload a copy of the study here.
The study confirms that the community solar farm is:
technically possible
compliant with planning regulation
supported by the broad community
financially viable
PROGRESS TO DATE:
May 2017 - the DA has been approved by Council. There are a few small conditions that we need to resolve before Council signs off on the approval and we are negotiating these at the moment (May5th) in expectation that by the end of the month all will be resolved.
THE NEXT STEPS:
Running parallel with finalising the DA we are in discussions with stakeholders to finalise:
Completing the Network Connection Study, in discussion with Essential Energy.
Negotiating an arrangement with a retail partner who can facilitate selling the energy to our local customers.
Finalise the legal and financial modelling, in consultation with legal and accounting experts who have experience in this field.
Once these steps are completed, CE4G will then finalise an Offer Information Statement and invite the community to invest in the construction stage. We will also be in a position to offer local customers the abiility to purchase their electricity from us, thus ensuring that as much revenue as possible stays in this community and allows us to progress to new renewable energy projects in our region. So stay tuned!
Other Examples of Community Energy Projects:
In Australia
Hepburn Wind Farm (Vic)
REPower Shoalhaven (NSW)
Denmark (WA)
Internationally
UK - Isle of Eigg
Germany - Jühnde
USA - Ellensburg
Where is the proposed solar farm?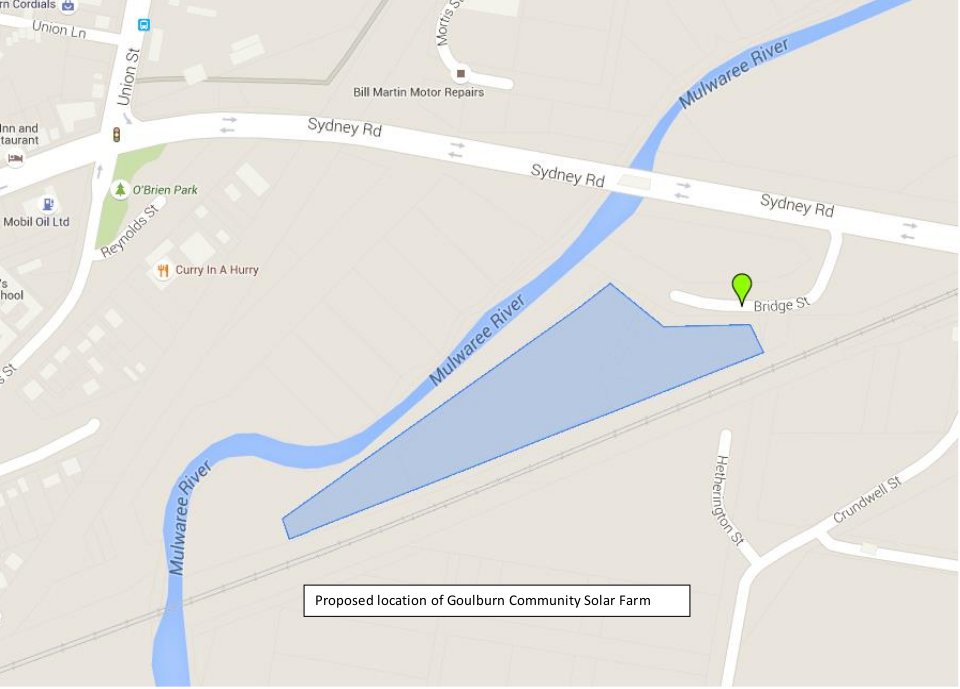 The community solar farm is proposed for a 2.5 ha site off Bridge St, between Sydney Rd and the railway line. The site is owned by Divall's Haulage. It is zoned B6 Enterprise Corridor and was previously used for residential and fuel storage purposes. It is currently vacant. You can see the site on our video.
There are approximately 4000 panels planned for the site. Clearing the site has already been undertaken: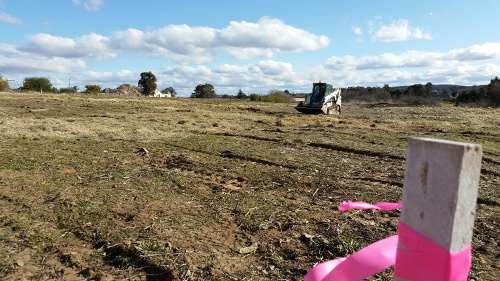 A solar monitor has been installed on the site for measuring the amount of solar radiation available for the generation of electricity from the solar panels: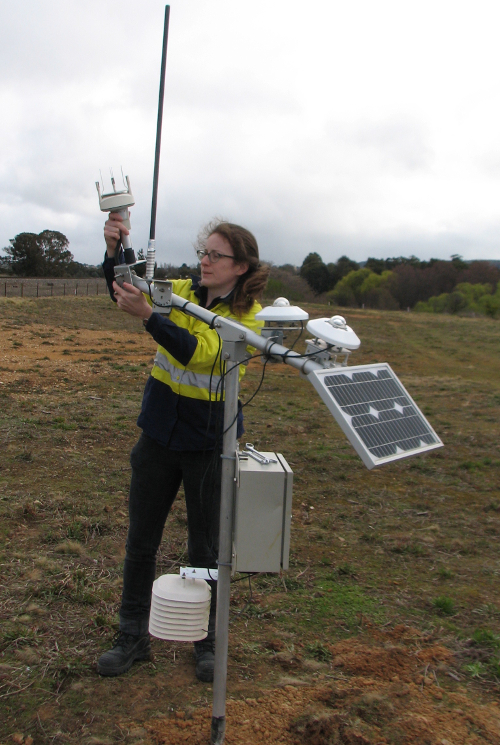 Project #2
Spring Solar Bulk Buy Expo
Bulk Buy a sold out success!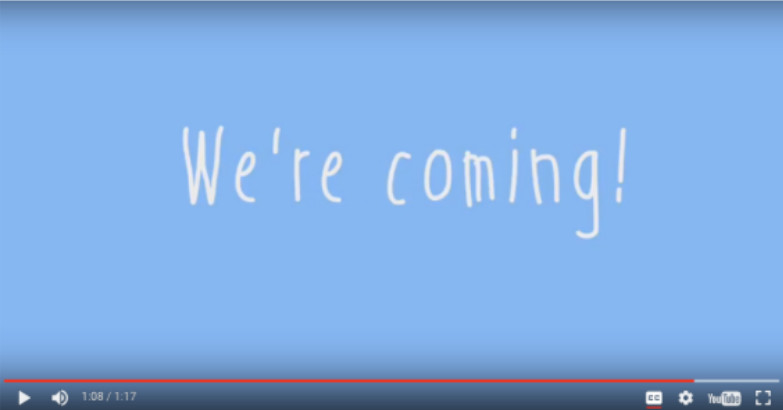 Lots of people signed up at our bulk buy expo for new systems, expanded systems, and new batteries that will expand their independence.
Systems are starting to be installed on the easier roofs, but some custom installations won't get installed for another month or so.
Those who ordered Tesla batteries will need to wait till May because the new battery will not be on the wharves until then. Goulburn will be one of the first places in Australia to receive the new battery!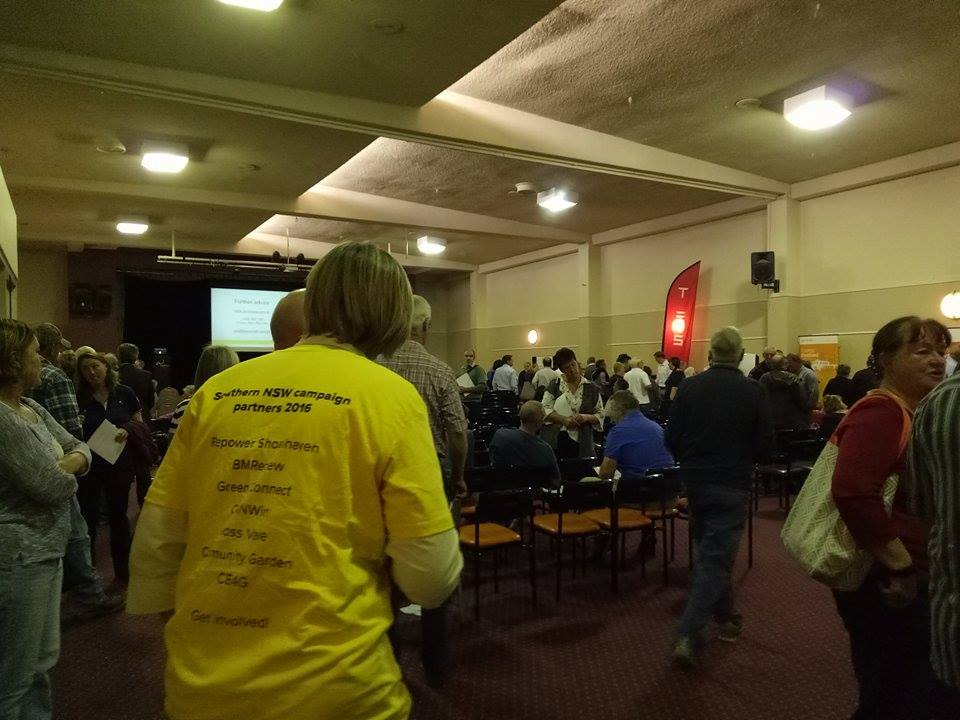 What a great night at our first sold out expo!
If you need more information on your order, or would like to enquire more about this project, email us and we will get back to you.